The Men and Women Who Made a Memorable Impact on Our Home Town, Nutley, New Jersey Volume One
By Anthony Buccino
Nutley Notables -Volume One includes Old West sharpshooter Annie Oakley who has a street here named in her honor; home-diva Martha Stewart who grew up on Elm Place and often writes of growing up in Nutley but has no street named for her; and others who may have to wait a while for street naming honors.
---
Nutley Notables - Vol. 2
T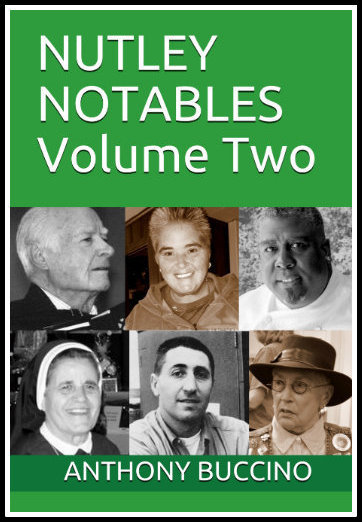 he Men and Women Who Made a Memorable Impact on Our Hometown, Nutley, New Jersey - Volume Two
By Anthony Buccino
The township of Nutley, New Jersey, has accumulated a wealth of celebrated and eccentric people who over-shadowed the salt-of-the-earth folks who lived here, raised their families and built the town into the place that Norman Rockwell only dreamed of illustrating for the cover of the Saturday Evening Post.
At all our events we asked for your suggestions for candidates to include in Nutley Notables - Volume Two, we thank you and hope you enjoy the diverse biographies we've included here.
Nutley Notables - The Men and Women Who Made a Memorable Impact on Our Home Town, Nutley, New Jersey Volume One
From Amazon reviews:
This is a must-have book for anyone who loves Nutley or who is interested in the town. It is written with a winning combination of affection and scholarship. I grew up in the town and it was wonderful to rediscover people who were figures in the town when I was younger - kind of like coming home again. It was equally wonderful to discover people I never knew about. I'm ordering additional copies for my friends who grew up in Nutley too.
An informative read
Great book that helps you understand Nutley's great forefathers and current notables and why the Township is one of the best in the nation. Needs a better editor, but the info is great.
[Minor edits were made following first printing, including an index and other features]
---
Nutley, NJ, author Anthony Buccino's stories of the 1960s, transit coverage and other writing earned four Society of Professional Journalists Excellence in Journalism awards.
Anthony Buccino
---
Support the author, buy a Buccino book:
---
Permissions & other snail mail:
PO Box 110252 Nutley NJ 07110
---